NON-PROFIT RESIDENCY PROGRAM (Call for Proposals)
The City of Dallas Office of Arts and Culture's Community Arts Division is requesting proposals from Non-Profit Organizations with ALAANA-focused programming for an 8-week residency!

ALAANA means African, Latinx, Asian, Arab, and Native American. This also includes Native Hawaiian and Pacific Islander (category as defined by the US Census Bureau).  ALAANA Organization is an organization whose primary intentions, practices, and mission are by, for, or about ALAANA artists, cultures, and communities. The word "for" refers to the intention of the organization to perpetuate, promote, and present art that is representative of an ALAANA culture and people and/or is given form by ALAANA artists.
The residency can be in-person or virtual, focusing on providing services in Districts 2-6, 8, and 10-13. These Districts do not have neighborhood cultural centers to connect arts organizations with new communities.
Special consideration will be given to proposals providing services in the pink and green areas of the Dallas Cultural Plan's typology map. 
Using any arts discipline, the proposed residency projects must address art and culture and create access to artistic and cultural programming for the residents of Dallas.
Residencies must take place within the city limits of Dallas and must be completed by September 30, 2021.
TIMELINE
Open for Submissions:

February 23

, 2021

Submission Deadline: 

March 

1

7

, 2021

Panel Review: 

Ma

rch 

19-26

, 2021

Award Notifications: 

April 5, 2021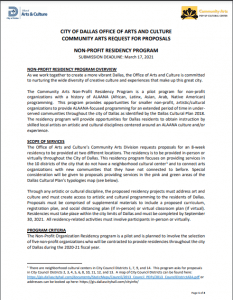 VIRTUAL INFO SESSIONS
History

 

and origins 

of ALAANA cultural 

programming 

and service:

Organization 

mission expressing programmatic 

and 

service focus around 

one or more 

ALAANA experience

s

 or culture

s

, organization 

history, leadership, and contact information to include email and administrative address

.

Proposal describing the planned execution of a project as described in the 

Overview & 

Scope of Services 

(see 

above

).

Most recent 990 

or 990

EZ Tax Form and Tax ID for verification.

Proposed budget to execute proposals not to exceed 

a

n award of 

$

20

,000

 from the Office of Arts and Culture

; if selected, payment

s

 will be made a

ccording to the terms of the contract. 

Sample teaching curriculum

Outreach/marketing and registration plans

All supplemental materials submitted should reflect the quality of your artistic product. Poorly produced supplementary materials can negatively affect your application

 

score.  Supplemental materials 

should

 include the following:

Social distancing/virtual classroom plan

Photos/videos

Web links to work samples showcasing the organization

Letters of recommendation

addressed to Community Arts Manager, Office of Arts and Culture.
APPLICATIONS ARE DUE BY MARCH 17, 2021 at 11:59 PM